St. Mark's and St. Andre — Over Twenty Years Together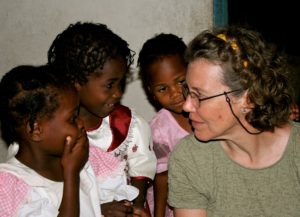 The Latest from Canon Serena
Long-time St. Mark's member Canon Serena Evans Beeks, D.Min., is US Coordinator for Haiti Episcopal School Partnerships. Over the past 20 years, whenever political conditions allowed, she has traveled to Haiti, sometimes several times a year. Read her latest posting below about the country, the people, and our paternership with St. Andre in Trinon.
View this email in your browser June 20th, 2023       One island. Two nations. Worlds apart?Behind the rhetoric distancing Haiti and the Dominican Republic Haiti and the Dominican Republic share one island–Hispaniola–whose peoples, cultures and economies are...
read more
The partnership of St. Mark's with St. Andre's Episcopal Church and School in Trianon, Haiti began in 2001. That year, one and then two parishioners began making regular visits, taking with them the offering from the St. Mark's School's Christmas Eucharist.
The relationship grew until 2007, when St. Mark's members were able to make our first group visit. Since then, groups from the church and school have visited annually when conditions in Haiti have permitted.
Students at St. Mark's School took the lead on such projects as a new four-room classroom building, a water project, and new school uniforms. Support from St. Mark's pays teachers' salaries, covers the occasional hot meal, and provides for repairs on the water system—which was damaged in the hurricanes of 2008—and the replacement of the old classroom building, which was damaged in the earthquake of 2010.
St. Andre's was the first church and school on Haiti's central plateau established by Bishop James Theodore Holly when he founded the Episcopal Church in Haiti in the early 1860s. Since its founding, St. Andre's has offered a primary school for the children of local subsistence farmers. In Haiti, only 50% of the children have access to any education at all.
Please pray for the people of St. Andre's, especially the children. If you can, give your financial support.